Your home's roof suffers damage every day of the year from strong winds, torrential rain, searing sun, and significant snowfall. The combined effect of all these recurring, yearly weather occurrences can result in leaks that can damage your roof and the inside of your house.
Make sure to heed these advices on what to do if storm damage affects your property to meet the needs of the seasons.
Types of Roof Storm Damage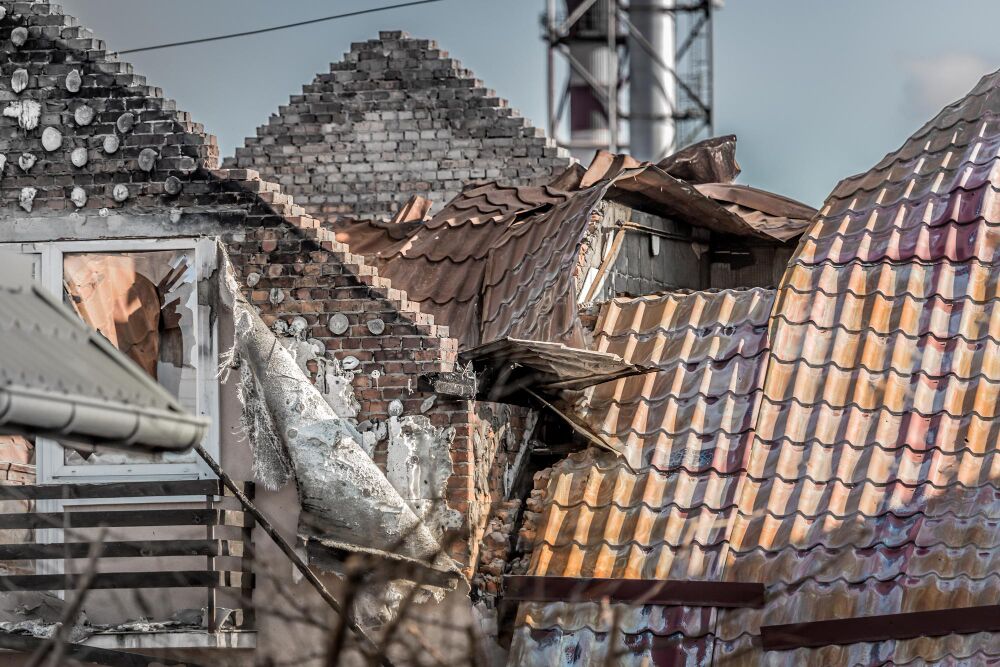 Roof Wind Damage
Strong wind storms can cause your shingles to deteriorate and increase the likelihood that debris will land on your roof and cause damage. Roof shingles have a tendency to lift, fall off, get pierced, and create openings for leaks during the following downpour.
After a violent windstorm has rattled your home, it's crucial to do a comprehensive examination since roof damage from wind storms isn't usually evident, especially when missing flashing is present in the crevices of your roof.
Rain Damage
The most prevalent and conspicuous sort of storm damage to your roof, rain roof damage is the mother of all roofing problems. Water has always been the enemy of your roof, and when leaks from various kinds of storms or just the ageing of your roof start to expose the inside layers to moisture, issues begin to occur.
Signs of rain damage include mold, decay, leaks, and structural damage, which suggest that your roof may need to be replaced.
Hail Damage
Hail poses a serious danger to the structure of your roof since it is a common source of roof damage in the spring and fall. If the dents and holes from hail are significant enough, they might cause issues immediately away, but occasionally, they can go unnoticed for a few storms before the full amount of the damage is realised.
You may prevent the typical problems associated with hail roof damage by doing a thorough examination by one of the roofers in Teddington following a hailstorm and understanding what to do when storm damage does occur.
Also Read: 7 Most Common Questions About Roofing
What are the signs of damaged roof?
The indications of a damaged roof might occasionally be rather evident, such as water stains on a ceiling and curled or missing roof tiles. Additionally, you can notice moist walls, water damage on your home's exterior, cracked or damaged roof flashing, or winter ice damming.
Shingles status. One apparent indicator is missing shingles, but other warning signals include granule accumulation on your shingles and early indications of deterioration. It is important to take note of the fact that hailstorms might result in dents and dings in asphalt shingles.
Skylights, vents, chimneys, and the borders of the roof all lack flashing.
Along the same penetration sites, loose or peeling sealant.
Damage from water along the ceiling or in the attic.
How to treat a storm-damaged roof?
The next thing to do is to consult one of the top roofers in Teddington. He will assess the damage roof and its extent. This would help him decide the cost of emergency roof repairs in Richmond. There are two options for roofing damage – roof repair and roof replacement. A good roofer would help you choose the most appropriate option.
Contact your insurance provider
Call your insurance company and contractor and describe the problem after you have identified what has occurred to your roof. When submitting claims, insurance companies often have a cap. Roof damage must be accurately documented, and your claim must be submitted as quickly as possible. However, calling them during the storm might not be helpful. When there is rain, wind, or lightning present, neither a contractor nor an insurance company will offer you the required assistance.
Safeguard your roof
Emergencies can take many different forms, so it's critical to comprehend the extent of the harm before developing a plan of action. What type of harm are we referring to? Different techniques are needed for various types of damage. Your roof might have been damaged by a tree that fell on it or by lightning that was very strong. The scenario will dictate the next course of action, but installing a protective cover fast to shield your interior from harm is a crucial first step.
The Conclusion
If you have suffered storm damage on roof, make sure you contact one of the best roofers in Teddington like Hampton Roofing. Backed by several years of expertise, the roofing contractor can help you with repairs to all types of roof storm damage.
Disclaimer- The information provided in this content is just for educational purposes and is written by a professional writer. Consult us to read more about how much wind damage to replace roof.